Safety and Security of our students is our utmost priority . We very well understand the when the parents send their kids to the school they entrusts us in providing them with a safe and secure learning environment. We at TWGS are committed and respect such expectations. We have taken various precautionary measures to avoid any accidents or mishap while the student is at TWGS.
Complete campus (indoor and outdoor) of The Wisdom Global School is covered with high end digital CCTV surveillance system, which is regularly monitored. sensitive areas are identified and given extra protections.
The complete building is installed with fire alarm system which can be activated at any event. The alerts the emergency response team to take immediate action to mitigate any risk.
All the transport vehicles are equipped with speed governors, which limits the speed of the vehicle. if the driver tries to go beyond the specified limit, the governor will not allow and the system will send an alert to the administrator.
CCTV & Front Camera in bus
All the transport vehicles are equipped with real time CCTV system which monitors and records the activities inside the busses and also captures the front of the bus.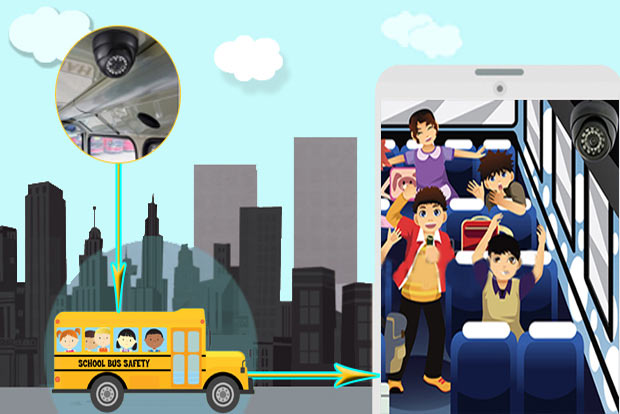 Fire Extinguisher in TWGS
A well planned state of the art fire fighting system is installed at TWGS to give complete protection and immediate response in case of any mishap. Regular training of our security guards along with students are carried out on h ow to handle any kind of emergency situations.
In addition to all the high tech and artificially intelligent systems. A team of highly trained security personnel are also deployed in the complete campus to keep and eye on the activities on campus and avoid any unauthorized ingress and egress.
All the transport vehicles are fitted with Geo tracking system. The administrator can at any time check the location of any vehicle. If any vehicle goes out of the authorized Geo Fenced area an alert is immediately sent to the administrator for action.
Fire Extinguisher and first aid kit in bus
All the transport vehicles are fitted with fire extinguishers and well equipped first aid kit for acting in the critical first few minutes before the emergency response team reaches the site of any mishap.